SelectPro™ for Control Valve Sizing and Selection
Product Announcement from Belimo Americas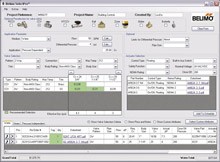 Belimo Launches SelectPro™ a new software which aids in control valve sizing and selection.
Using detailed valve specification information, such as application medium, flow rate, differential pressure, trim materials, and other options in its database, SelectPro™ provides contractors and specifying engineers with the tool to choose valves for their projects. SelectPro™ accurately sizes and selects control valves for hydronic and steam applications in HVAC systems. It provides a fast, user-friendly and flexible means for:
Calculating control valve cost for any size project
Generating valve/actuator submittal data for project
Printing project data, valve data and pricing
Exporting project data and selected products to Excel data format
Saving projects in .bel file for future editing or ordering
Automatically uploading data through web interface for easy ordering
"SelectPro™ gives contractors and engineers an unmatched set of tools," says Tricia Bruenn, Project Manager, Belimo Americas. "Our customers like the speed and ease-of-use of this program. Valve sizing and selection is now an easier process for our customers using SelectPro™."
SelectPro™ runs on Microsoft® Windows® 98 or later, with Windows XP recommended. The program supports 462 individual valve models and 237 actuator models. The program requires 500 MB of disc space.
---