Timing Belt Pulleys
Product Announcement from Belt Corporation of America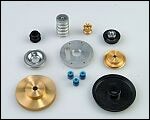 Belt Corporation's complete line of timing belts is complimented by our selection of aluminum and plastic pulleys. We offer a range of pulleys in a variety of widths and styles. View our line of pulleys here or contact our customer service team for assistance with selecting the proper pulley for your application.
Pulley Stock: MXL, 40DP, XL, L, H, 3M, 5M, 8M, 14M, 2MR, 3MR, 5MR, 8MR, 14MR.
Register now for a free design consultation with our belting experts. Our knowledgeable team of experts has assisted a variety of customers in a wide range of applications and industries. Let their expertise guide you in developing the most functional belting to suit your individual needs.
---