Woven Endless Flat Belts
Product Announcement from Belt Corporation of America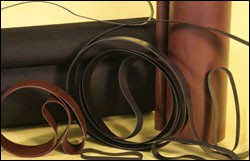 Belt Corporation provides woven endless flat belts in a wide variety of constructions.
Woven Endless Flat Belts
Single ply construction with high tensile properties
Adjustable and fixed center drives
Precision drive and high speed applications
No Splice or Seam
Wide variety of constructions available
Visit our Woven Endless Flat Belts for detailed information.
Download our Synchronous Belt Availability Guide.
---