We Drove Over One of Our Drum Heaters!
Product Announcement from Benchmark Thermal Corp.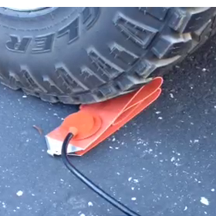 Our standard silicone rubber drum heater is so durable you can drive over it with a 3500 pound car and it still heats up.
Watch>>>Driving over heater
The heating element was not damaged during this video.
BENCHMARK THERMAL flexible drum heaters can heat stored fluids to a pourable temperature. Manufactured of high strength woven fiberglass core covered with silicone rubber. Durable, abrasion-resistant and easy to clean. Flexibility allows roll-up for convenient storage.
Benchmark Thermal WE ARE the human element in the heating element. No job is too difficult.
BENCHMARK THERMAL has been a full line manufacturer of industrial heating elements since 1984. Serving a wide variety of industries from food processing, semiconductors, petrochemical, to medical devices, Benchmark has offered innovative solutions for complex and technical applications.
Benchmark Thermal is your complete heater manufacturing facility of flexible, semiconductor and cartridge elements. Our engineering department is fully equipped to meet any heater design requirement. We provide product support with thorough testing and evaluation, and are committed to the ongoing research and development of new and improved products for evolving applications.
Since 1984 Benchmark Thermal has been delivering quality heating elements at competitive prices. Our attention to detail and customer service is a benchmark in the industry. From small flexible circuits to large circulation vessels with control panels, Benchmark supplies a full range of heating elements essential to industry.
Contact Benchmark Thermal Manufacturers of Electrical Heating elements and controls for Industry
---