Couplings
Product Announcement from Berg W.M., Inc.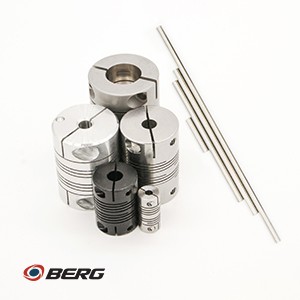 Information Transmitting Coupling
Berg's Information Transmitting Coupling series offer zero backlash and high torsional rigidity. They are ideal for precision positioning applications where constant velocity is required for accurate feedback control.

The single piece Beamed couplings are offered in single, three and six beam design to offer engineers the largest design criteria available. They are manufactured in stainless steel, aluminum and Delrin.

We also carry Wafer Spring, bellows and sleeve couplings within this group. This product line is also available in metric sizes.
Shock Absorbing Couplings
The Shock Absorbing Coupling series, as a result of flexible plastic members connecting their hubs, dampen vibrations and shock loads as well as electrically insulates shafting.

The series is maintenance-free and quiet running with no moving parts.

The neo-flex model is available in pin hub and clamp hub style. 1" Angular misalignment (maximum), .005 shaft misalignment (maximum).
Misalignment Couplings
The sliding center element of the Misalignment Coupling series compensates for lateral and angular misalignment caused by tolerance buildup or as a result of mounting. They are corrosion resistant, and require no lubrication.

Also available in metric sizes.
High Misalignment Couplings
The High Misalignment Coupling series allows the designer to have shafts that are intentionally offset, laterally or angularly, by a large amount.

The Power Drive cores are designed to transmit rotary motion continuously in one direction of operation. The flexible shaft is constructed of quality high carbon wire and wound on the most modern automatic winding machines.

Precisely controlled stress relieving is utilized to provide optimum flexibility and smoothness. The range of maximum parallel misalignment can be from as little as .063 to as much as 3.770. Also available in metric sizes.
About Berg:
Since 1967, W.M. Berg has consistently set the standard of excellence as the world's leading provider of miniature precision mechanical components. Started as a privately-held family business, Berg is now part of Rexnord Industries, a world leader in controls and automation.
W.M. Berg always has one goal in mind: to furnish the products and information you need, when you need them, with the quality you expect.
Most standard product in quantities up to 25 pieces are available in 1-2 days.
Most custom product in quantities up to 25 pieces are available in 2-4 weeks.
Our on-time delivery to customer want date is currently better than 95%.
Customer service available from 8AM – 8PM EST.
Please click on the links to the right for more information or request a quote today!
---