Gear Racks
Product Announcement from Berg W.M., Inc.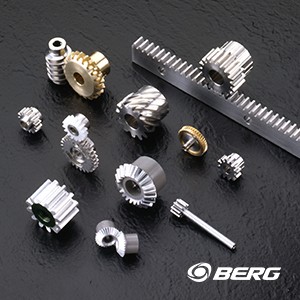 Gear racks are a very important component of the gear industry offering a unique ability to convert rotary motion into linear motion. In gear theory,the gear rack is a spur gear with a infinite pitch diameter. This results in a involute tooth profile that is essentially a straight line and the tooth is of a simple V form. This allows racks to be highly durable and very cost competitive.
A gear rack will mesh with all gears of the same pitch and pressure angle. Berg offers a large variety of off the shelf standard racks with pitches ranging from 16 dp to 120 dp. These are provided in both rectangular and round shapes and are available in both stainless steel and aluminum (see specification sheets). We manufacture a standard class C backlash on all of our racks, but other backlash classes are available. All racks manufactured by Berg are held to the same quality standards as our gears. We produce racks from a quality 10 precision to a quality 14 precision. These are rigorous standards that have been established by the American Gear Manufacturing Association (A.G.M.A.).
Variations from our standard off the shelf racks is not a problem. Specialty racks can be manufactured to meet your requirements with any modifications in hole patterns, blank sizes or materials. A length of up to 48 inches can be achieved. For information or for a quotation concerning a special rack, please call our customer service representatives.
About Berg:
Since 1967, W.M. Berg has consistently set the standard of excellence as the world's leading provider of miniature precision mechanical components. Started as a privately-held family business, Berg is now part of Rexnord Industries, a world leader in controls and automation.
W.M. Berg always has one goal in mind: to furnish the products and information you need, when you need them, with the quality you expect.
Most standard product in quantities up to 25 pieces are available in 1-2 days.
Most custom product in quantities up to 25 pieces are available in 2-4 weeks.
Our on-time delivery to customer want date is currently better than 95%.
Customer service available from 8AM – 8PM EST.
Please click on the links to the right for more information or request a quote today!
---