Lead Screws
Product Announcement from Berg W.M., Inc.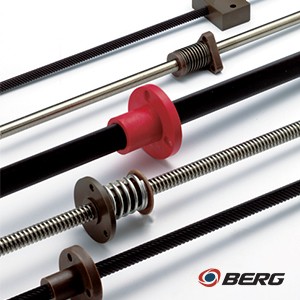 Berg is a pioneer in the development of lead screws. Providing cost effective solutions to linear actuation problems. The close tolerance, free running nuts are ideal for miniature applications requiring rotary to linear or linear to rotary actuation.
For applications requiring precision positioning, Berg manufactures Anti-Backlash Nuts. Consisting of only three components, this device utilizes the constant force of a compression spring to push two nut halves apart. This action eliminates any play (backlash) which exists between the internal thread of the nut and the external screw thread. To ensure accuracy and repeatability, the nut can be fine-tuned by using many available spring constants, to meet any pre-load design requirements.
Product Offerings:
Acme Lead Screws
Berg Lead Screws
Lead Screw Assembly
---