Authorized Distributor of INA, FAG, KBC, NACHI
Featured Product from Berliss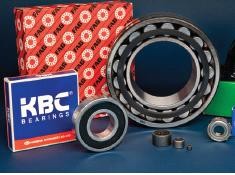 KBC bearings are now produced by FAG Hanwha Bearings Corp. Since 1953 KBX has been manufacturing top quality ball and tapered roller bearings under the KBC brand. KBC bearings are designed to be smooth and quiet. These bearings are especially appropriate high performance, minimum vibration and ultra high speed. KBC bearings are used in electric motors, transmissions, household appliances, automobile, motorcycles and agricultural machinery.
The 6000 Series are extra light bearings are normally used in applications where space limitations are a primary consideration and shaft sizes are relatively large. The 6200 Series bearings feature deep, honed raceways, resulting in a perfectly balanced bearing. Functionally similar to the 6200 series, the 6300 Series are produced with a larger ball complement and heavier races allowing greater radial, thrust and combined load capacity for a given bore size
KBC bearings are also used in electronics, industrial machinery, and sports equipment. KBC super precision deep groove ball bearings are designed to achieve smooth quiet running. KBC bearings are perfect for applications with high demands for quiet running, minimum vibration, and ultra high speed.
Berliss is your source for these and a vast range of precision bearings from KBC and other premier manufacturers.
Visit our website via the links on the left or e mail us your inquiries