Caster Bearings and Components
Featured Product from Berliss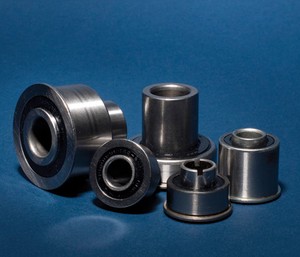 Berliss offers a complete line of bearings and components for casters and wheels, designed for material handling applications.
At Berliss, the following caster bearings and components are available:
Fine and coarse thread axles and their corresponding nuts from 1/4" to 1" in zinc plated low carbon steel and stainless steel with or without grease fittings.
Spanner bushings with and I.D. of 3/8" to 1-1/14 are heat treated and surface ground, with or without oil holes, in stainless steel. Spanner bushings can be zinc-plated upon request.
Precision radial ball bearings with extended inner races can be used for 1-1/2" or 2" wide wheels. They can be sealed, shielded, and heat treated as well as ground or machined. Also offered in stainless steel and high temperature variants.
Un-ground and precision flanged ball bearings for hand truck wheels.
Retainer seals and combo washers.
Grease fittings.
Custom machined items that include stems, kingpin and bolts.