Ceramic Bearings and Components
Featured Product from Berliss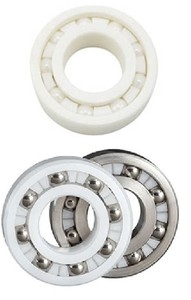 Berliss now offers bearings in Ceramic (hybrid and full).
Ceramic materials available are Zirconia (ZrO2), Silicon Nitride (SisN4) and Silicon Carbide (SIC). These bearings are available with the following ball retainers: PTFE, PA66, PEEK or Stainless 304 or 316.
Full ceramic bearings have excellent performance when electrical and magnetism resistance is required. Ceramic bearings last longer and provide enhanced corrosion resistance as compared to standard bearings. These bearings are lubrication and maintenance free and are ideal in extreme high or low temperatures.
Full ceramic bearings made with SI3N4 perform better than those made with ZrO2. These bearings can endure a heavier load and can be used in a higher temperature environment.
Hybrid bearings are available with Stainless Steel raceways and ceramic balls. 304, 316, and 440 Stainless Steel grades are available. A benefit to using a hybrid bearing is that the ceramic ball heat-expansion coefficient is small. These are great for high heat environments!
Both Ceramic and Hybrid bearings are available in both metric and inch standard bearing sizes.