High Quality, Cost Effective Mechanical Pump Seals
Featured Product from Berliss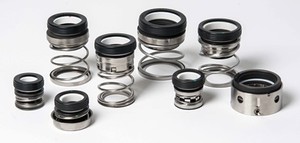 As an alternative to packing materials Mechanical Seals can compensate for shaft width, axial/radial end play, vibration & wearing of the sealing faces in pump applications. They are available In both Single and Multi Spring variations.
Scroll down to see typical configurations in this video
Berliss offers a variety of seals including single-spring mechanical, cartridge and split seals. Berliss also offers gasket and packing materials.
At Berliss, the following seals are available:
High-quality, single-spring mechanical seals with a variety of mating surfaces such as carbon, ceramic, carbon silicon tungsten and ni-resist.
We also provide a variety of elastomers that include: Viton and Buna.
Seal types include: type 1, 2, 21, 6, 6a and 8, all with a range of shaft diameter from 3/8th to 3 inches.
Several types of braided packing materials. The product range includes varying temperature ratings and materials.
Cartridge, split seals and lip seals
Learn more and visit Berliss' website via the links on this page