Need Mechanical Seals? Speak to an Engineer.
Featured Product from Berliss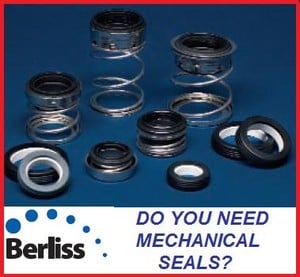 Call Berliss and speak to an engineer to address your questions and help find the ideal sealing components for your application. Our customers value the responsiveness, competitive pricing and fast delivery that Berliss is known for.
Berliss offers a variety of seals including single-spring mechanical, cartridge and split seals and gasket and packing materials.
High-quality, single-spring mechanical seals with a variety of mating surfaces such as carbon, ceramic, carbon silicon tungsten and ni-resist.
We also provide a variety of elastomers that include: Viton and Buna.
Seal types include: type 1, 2, 21, 6, 6a and 8, all with a range of shaft diameter from 3/8th to 3 inches.
Several types of braided packing materials. The product range includes varying temperature ratings and materials.
Cartridge, split seals and lip seals
As a 4th generation, family owned American business we are successful because customers are happy with our extensive range of products and the superior service we provide. How can we help YOU?
Just call us at (973) 992-4242 …… you will always connect a live person during business hours. Or e mail our team with your inquiries.