Quality Mechanical Seals Maximize Pump Life
Featured Product from Berliss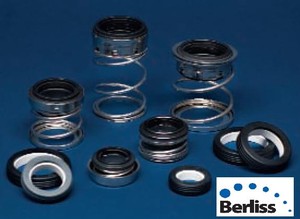 To maximize pump life high quality seals are vital - whether it is a replacement or for an OEM application.
Berliss is a proud manufacturer of high quality, cost effective mechanical seals. We can also provide multi-spring and cartridge seals, along with a variety of gasket and packing materials to meet all of your fluid sealing needs.
Whatever your seal needs Berliss products can help. The range of materials address many demanding applications.
Buna, Viton or EPR
Carbon, Silicon Carbide, Tungsten Carbide. Ceramic
Stainless Steel, 304 or 316
If the material you require is not listed, please ask one of our engineers for assistance
See the full range and specs of our standard seal products or send us an e mail with your specific requirements for a customized seal solution