Barb Fitting - 10-32 External Thread
Featured Product from Beswick Engineering Co., Inc.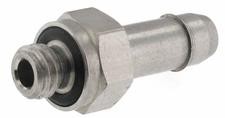 Beswick Engineering's miniature 10-32 external threaded barb fittings are ideal for softer tubing IDs ranging from 1/4" ID down to 1/32" ID. Polyurethane tubing is commonly used with our barbed fittings for its excellent flexibility and resistance to kinking. All of the fittings are assembled with a Buna- N O-ring seal unless another material is specified. In addition to the O-ring seal design, the fitting includes our proprietary single edged "line contact" barb, which allows tubing to be pushed onto the fitting easily by hand, while still providing exceptional holding power. It also insures a leak tight connection at the tubing interface.
The barbed fittings are manufactured in brass, 303 or 316 stainless steel.