Compression Fitting for 1/32" OD Tubing
Featured Product from Beswick Engineering Co., Inc.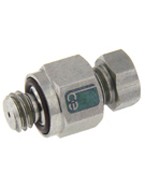 Beswick new miniature compression fitting, MCB-32, is machined with a 10-32 external thread and designed for use with 1/32" OD tubing. Designed with a two piece ferrule this design is ideal for use with stiff plastic or metal tubing which can handle higher pressures than the barb design connectors. The maximum pressure rating is typically dependent on the tubing style when using stiff plastic tubing. The maximum pressure rating is 3,000 psig. when using stainless steel tubing. Beswick compression fittings give you the ability to operate at high pressures and temperatures while maintaining a small envelope.