Compression Fitting for 1/4" OD tubing
Featured Product from Beswick Engineering Co., Inc.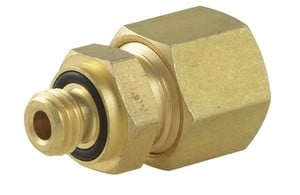 Beswick compression fittings give you the ability to operate at high pressures and temperatures while maintaining a small envelope. Depending on the tubing pressure limits, either a brass or stainless steel compression fitting assembly should be chosen. Beswick's ferrules provide for a leak-tight tubing connection while a captured O-ring ensures a reliable face seal for male threaded fittings. Compression fittings are easy to install and provide long life.
Max Pressure Rating: 1,000 psig in brass and 3,000 psig in stainless steel, when used with high pressure metal tubing. When using stiff plastic tubing, the burst pressure of the tube is typically the limiting factor.