Filter Thread to Barb, Adjustable Fitting
Featured Product from Beswick Engineering Co., Inc.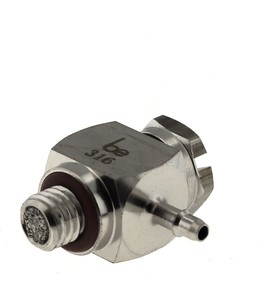 Prevent contaminants from flowing through pneumatic lines with this 10-32 or M5 threaded, adjustable position filter elbow fitting. A porous sintered filter (5 micron, 20 micron, 40 micron) or wire mesh screen (43 micron) is pressed into the external threaded end of the fitting. The body includes a barb for use with tubing IDs ranging from 3/16" ID down to 1/16" ID. The maximum pressure rating is 100 psi (6.89 bar) when used with the appropriately sized polyurethane tubing. With a clamp installed, the burst pressure of the tubing becomes the limiting factor. Manufactured with a 303 or 316 stainless steel body and assembled with O-ring seals for leak tight installation. A wide variety of O-ring materials are available to meet your application requirements.