Luer Lock Fittings - 10-32 Threads - External Luer
Featured Product from Beswick Engineering Co., Inc.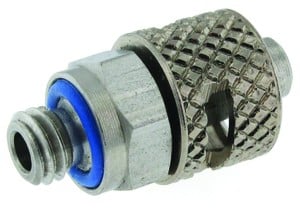 Beswick Engineering's luer lock fittings are commonly used in medical applications requiring liquid as the flow media. The external 10-32 luer fitting, LULM, with no shut-off is often paired with an internal luer with no shut-off (LULF) or with a single shut-off (LULFS). Configurations with a built-in shut-off will close to prevent flow when disconnected.
Double shut-off external luers (LULMD) must be paired with double shut-off internal luers (LULFD).
This fitting is available without the locking feature and is also available with an optional integrated shut-off mechanism. Manufactured in 303 or 316 stainless steel. Models that are machined with a 10-32 external thread, are assembled with our standard Buna-N O-ring seal. If the application involves corrosive fluids or extreme temperatures, optional O-ring materials are available.