M3 Thread, Elbow, Adjustable Barb Fitting
Featured Product from Beswick Engineering Co., Inc.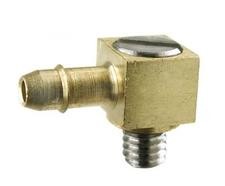 Beswick adjustable position, 90 degree elbow fitting is machined with a M3x0.5 external screw thread to barb. The body of the fitting is available with several barb sizes for tubing ID's ranging from 3/32" (2.4mm) to 3/64" (1.2 mm). To ensure a leak-tight seal, the fitting is assembled with Buna-N O-rings, the standard seal used in assembly. For more demanding applications, a variety of other materials ( EPDM, Viton, Silicone, Fluorosilicone) are available.
Beswick's proprietary singel edged "line contact" barb allows tubing to be pushed onto the fitting easily by hand, while still providing exceptional holding power. The maximum pressure rating is 100 psig. (6.9 bar) when used with the appropriate sized polyurethane tubing. With a clamp installed, the limiting factor generally becomes the burst pressure of the tubing.
This design is machined in brass, 303 or 316 stainless steel.