M3 Thread, Non-Venting, Slide Sleeve Valve
Featured Product from Beswick Engineering Co., Inc.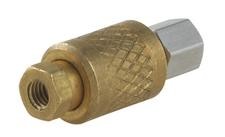 The M3SV series, non-venting, ultra miniature M3 threaded slide sleeve valve provides an efficient on/off valve. When the sleeve is moved to the "ON" position, fluid is allowed to pass through the valve. When the sleeve is moved to the "OFF" position, fluid is prevented from exiting the outlet port. The valve can be attached directly on a device to be isolated and does not require mounting. The valve is a 2-way (non-venting) device. There is no preferred flow direction.
The maximum pressure rating of the valve is 250 psig (17.23 bar). The valve is available in either brass or corrosion resistant 303 stainless steel. Four Buna-N O-rings are assembled into the valve as a standard. For applications involving higher temperatures or chemical compatibility issues, EPDM, Viton or Silicone O-rings can be specified.