Micro Orifices
Product Announcement from Beswick Engineering Co., Inc.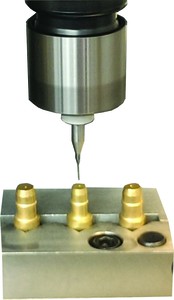 Beswick Engineering has developed specialized micro-drilling technology to produce precision orifices as small as 0.004" diameter in brass and stainless steel. Drilled orifice fittings are held to a tolerance of +/-0.0005" and are an excellent choice for the majority of applications.
Beswick drilled orifice fittings are available in brass, 303, and 316 stainless steel.
With 50+ standard orifice sizes of each type to choose from, and the capability of making custom sizes and configurations, Beswick is sure to have the miniature orifice fitting you'll need to achieve the flow rates you require.
Contact a Beswick Applications Engineer if you have any questions, or require assistance determining an appropriate orifice size for your application.
Standard Options include:
Body Styles Available
-Thread to barb
-Barb to barb
-Thread to thread
-Screw Plug
Threads
-M3, M5, and 10-32 straight threads
-1/16", 1/8" and ¼" NPT threads
Body Materials
All orifice fittings are available in brass. Micro-drilled fittings are also available in 303 and 316 stainless steel.
O-ring materials
Buna-N, EPDM, Viton®, Silcone, Teflon®, Chemraz®, AFLAS®, Fluorosilicone, and Neoprene.
Other sizes, configurations, and materials, may be available upon request. Please contact a Beswick Applications Engineer for more details.
Applications include:
· medical and dental equipment,
· instrumentation,
· laboratory equipment,
· semiconductor manufacturing equipment,
· aerospace equipment,
· packaging machinery,
· industrial robots,
· And many more…
For more critical flow metering applications, you may want to consider Beswick sapphire jewel orifice fittings. Sapphire jewel orifice fittings are offered with hold diameters as small as 0.003".
---