Miniature M3 External Thread, Barb Fitting
Featured Product from Beswick Engineering Co., Inc.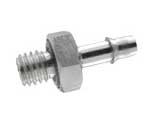 Description: Straight M3x0.5 external threaded barb fitting.
Max Pressure Rating: 100 psig, when used with appropriately sized polyurethane tubing. With a clamp installed, the limiting factor generally becomes the burst pressure of the tubing.
Features
Beswick's trademark O-ring seal design provides a leak-tight joint.
Beswick's proprietary single edged "line contact" barb allows tubing to be pushed onto the fitting easily by hand, while still providing exceptional holding power. It also insures a leak tight connection at the tubing interface.
Material ENP Brass, 303 Stainless, Brass, 316 Stainless
Seals Fluorosilicone, Black EPDM, Buna-N, Viton®, EPDM, Silicone
Note: Suggested tube ID is for polyurethane or vinyl tubing. Consult factory if you plan to use a different tubing material.