Miniature Needle Valve, M3 Thread, Cartridge Style
Featured Product from Beswick Engineering Co., Inc.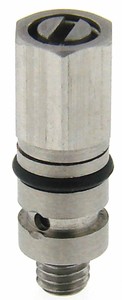 Description: Our smallest needle valve features M3 threaded inlet and hose barb or M3 threaded outlet. A manifold mount version also available. The NV3 is a great choice for applications where space and/or weight savings is critical.
Working Pressure Range: The NV3 is rated for a maximum inlet pressure of 300 psi. The metal to metal seal provides positive shut-off down to 25 in Hg.
Effective Orifice: 0" to 0.032" (0-0.8mm) for both the standard and high resolution needles. About 0-1 SCFM air flow at 50psig. The high resolution version is especially well suited for control of low flow rates.
Adjustment: All versions come equipped with a 1-72 threaded adjustment screw.

About 4 revolutions of the adjustment screw from fully opened to fully closed with standard needle specified.
About 9 revolutions from fully opened to fully closed with high resolution needle specified.

Approximate Weight:2g in brass and 303 stainless. Weight will vary slightly, depending on configuration.

Porting: M3 external threaded inlet port. Many outlet configurations available. The valve body (elbow) swivels 360 degrees to facilitate installation and orientation.

Features:

Stainless steel valve seat allows flows to remain steady despite changes in temperature
Compact miniature design
The valve body (elbow) swivels 360 degrees to facilitate installation and orientation.

Material

Brass, 303 Stainless

Seals

Viton®, EPDM, Buna-N, Black EPDM, Silicone