Miniature Three-Stage High Pressure Regulator
Featured Product from Beswick Engineering Co., Inc.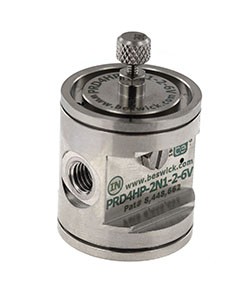 Description: Beswick's award winning PRD4HP is a compact three stage regulator, ideal for applications requiring accurate regulation of high pressure fluids down to very low pressures and flows.
Max Inlet Pressure Rating: The PRD4HP is a three stage regulator, capable of accurately reducing very high inlet pressures, up to 3,000 psi. It is ideal for applications where the source fluid will be coming directly from a cylinder of high pressure compressed gas.
Outlet Pressure Range: Maximum outlet range 0-40 psig. The large valve to sensing area ratio and frictionless design of Beswick's diaphragm style regulators make them especially well suited for low pressure regulation, such as ½ psi. The three stage design allows the regulator to maintain a consistent outlet pressure despite wide swings in the inlet/source pressure.
Approximate Weight: 76g in brass and stainless steel (303 & 316). Weight will vary slightly, depending on configuration. Selecting the 2 inch. high resolution cap option adds approximately 50-60g to total weight.
Operating Temperature: The PRD4HP uses an internal Delrin seal. Delrin is not rated for use at elevated temperatures. If you are planning on using the PRD4HP at elevated temperatures, please contact the factory for additional information and options.
Porting: ¼-28 internal threaded inlet port, 10-32 internal threaded outlet port.
This is a Non-Relieving regulator.
Material Brass
Seals Buna-N, Viton®, EPDM