Two-stage Diaphragm Pressure Regulator - Miniature
Featured Product from Beswick Engineering Co., Inc.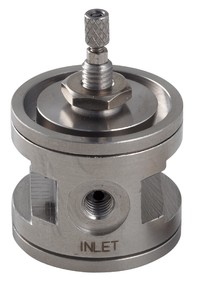 The Beswick PRD3 series pressure regulator features 10-32UNF threaded inlet and outlet ports. It is designed with a frictionless diaphragm which is well suited for low pressure regulation and when high accuracy is required. The two stage design ensures that the regulator will maintain a consistent outlet pressure despite wide swings in the inlet (source) pressure or decaying inlet pressure. The PRD3 pressure regulator series is rated for inlet pressures up to 500 psi (34.5 bar) and can provide outlet pressures in the range of 0 to 30 psi (0 to 2.07 bar). The regulator can be ordered in brass, 303 SS, 316 SS or aluminum.