Ultra-Miniature Pressure Relief Valve
Featured Product from Beswick Engineering Co., Inc.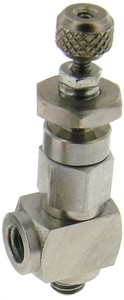 Introducing Beswick Engineering's new ultra-miniature relief valve series. It is primarily intended for applications where space and weight (about 6.2 grams) savings are critical. This design saves a considerable amount of space as the valve is just over a 1" (2.6 cm) in height and contains the popular 10-32 thread with an integrated O-ring face seal for leak-tightness. The RV-MLS series single-stage piston style pressure relief valves offer relatively precise back pressure regulation in an extremely compact package. A cartridge mount configuration can be selected for additional space savings. It is rated for inlet pressures up to 500 psi (34.5 bar). The cracking pressure range is user adjustable from 5 to 45 psi (0.34 to 3.10 bar). Manufactured in corrosion resistant 303 Stainless Steel.
This normally closed, safety device is designed to open (first bubble escapes from the 10-32 threaded outlet) at a preset pressure and discharge fluid until pressure drops to an acceptable level, typically the valve will close after the upstream pressure falls a few psi below the set pressure or cracking pressure.