Linear Motion Potentiometers
Product Announcement from Betatronix LLC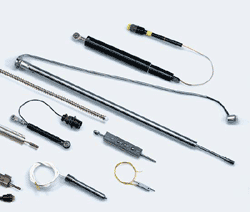 Linear motion potentiometers are available with wirewound, molded conductive plastic and film resistance elements; in diameters of 1/4", 3/8", 1/2", 5/8" and 3/4"; with stroke lengths from 1/16" to 6 feet; and in a wide range of rectangular cross sections. Special mechanical configurations can be designed to meet specific "packaging" needs.
In September 1996, Betatronix acquired the Linear Motion Potentiometer (LMP) product line of Bourns Inc., the largest trimpot manufacturer in the world. The acquisition included the purchase of all Bourns-owned inventories, tooling, machinery, equipment, drawings and designs related to the LMP line and the right to use Bourns-owned trade secrets, "know-how" and proprietary information directly related to the manufacture of LMP products. This acquisition makes Betatronix the largest precision Linear Motion Potentiometer manufacturer in the world.
Visit Betatronix to view Series drawings.
---