Bibbigard Back Stops Help You Avoid Danger
Product Announcement from Bibby Transmissions Group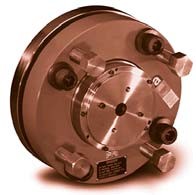 Fitting a Bibbigard Backstop cuts out the danger of fully loaded conveyors running back for any reason. These non-lubricated,fail-safe products operate without reliance on a power source or manua loperation: rapidly and effectively, every time.
Bibby Transmissions Torque Control Division also offers a wide range of Torque Limiters to protect plant and machinery from damage due to overload, and to protect production by minimizing machine downtime in the event of a stoppage. Bibby Transmissions offer complete answers to the problems created by torque and the mechanical transmission of power with a wide range of quality products all backed by comprehensive design and manufacturing expertise, in-house test facilities and technical support.
Specify Bibby Transmissions products to protect your investment in people, plant and production.
---