A MAXimized Rotary Custom-Built
Featured Product from BinMaster, Inc.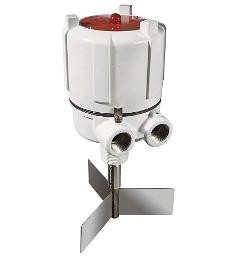 A MAXimized Rotary Custom-Built for Your Operation
Fail-safe protection is built into every MAXIMA+ rotary ... and it has been since 2008. The MAXIMA+ alerts you to a loss of power, a failure of the motor, or the electronics.
Supervisory circuitry monitors shaft rotation and knows if paddles are not rotating due to a covered condition, mechanical failure or power loss. Plus, there's a red LED indicator light - solid, blinking, or off - for at-a-glance status updates.
Every fail-safe MAXIMA+ and standard BMRX rotary is manufactured in our Lincoln, Nebraska, USA facility using ISO 9001:2008 certified processes to ensure quality. Since BinMaster is also a machine shop, we can offer you the widest variety of customizations and short lead times.
- 19 different paddles including collapsible paddles for simple mounting
- Galvanized and stainless steel shaft extensions and guards up to 7 feet
- Adjustable mount for changing the height for top-mounted rotaries
- Stainless steel process connection for enduring performance in corrosive materials
- Flexible cable hanging rotary extension for high level alerts in tough materials