Customized Vendor Managed Inventory
Service Detail from bisco industries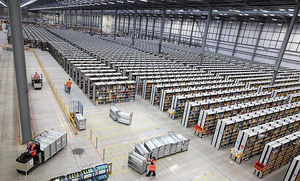 Customized Vendor Managed Inventory
When it comes to managing your supply chain vendor managed inventory (VMI) can have a significant impact on the bottom line. Imagine reducing the cost of carrying inventory, replenishing stock automatically, and customizing packaging all in one solution. That's just a flavor of what a customized VMI program from bisco industries can offer.
At bisco we customize each and every VMI program to meet the unique needs of your business and help you improve profit margins. Here are 3 popular VMI features to help you meet your business challenges:
1. Demand Forecasting
Utilizing data from an electronic data interchange (EDI), bisco can develop demand forecasts to help ensure inventory is always available. Key data needed to develop accurate demand forecasts include current and historical sales volume, production volume, and inventory levels (on-shelf, in-transit, on-order).
2. Bin Stocking
In a classic two bin bin stocking system, bin one is stocked with parts for consumption while bin two contains reserve stock that ensures a line down situation does not occur. Inventory levels can be tracked using barcoding and EDI systems or by onsite checks at regular intervals (i.e. twice per month).
3. Kitting
bisco will review your bill of materials and package items together to provide production ready kits. Single line item releases reduces vendors, SKU's, inventory, inspection, transaction and acquisition costs. Additionally, kitting streamlines procurement and speeds up the manufacturing cycle.
Interested in learning more about a customized VMI program?Contact bisco today!
bisco Expands Online Catalog by Over 2.5 Million Products
Your One-Stop-Shop
Over the past six months bisco industries has added over 2.5 million products to its online catalog. The expansion of our online catalog provides engineers and purchasing agents with additional flexibility to find solutions for current and upcoming projects. Users can now search and filter newly added products by part number, product description, dimensions, and many other attributes.
bisco's expanded online catalog includes products from:
Online & Local Presence
In the coming months we plan to continue growing our online catalog and are targeting to add an another one million products. In addition to our expanded online catalog, we remain focused on providing local, personal service to each and every client. bisco industries now has 48 local offices and 7 distribution centers in North America.
Have you seen our Corporate Video yet? We're excited to share this video which highlights our products & services.
"bisco industries is a global distributor of electronic components, specialty fasteners, and hardware. bisco leverages relationships with an extensive network of manufacturers to provide our clients with superior service. bisco boasts 150+ authorized brands, 90,000+ items in stock, and 48 local offices. Search or browse items to find pricing, availability, and place orders at the click of a button."