Electronic clips and insulators
Featured Product from bisco industries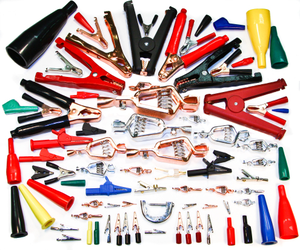 bisco Expands Online Pricing & Inventory for Mueller Electric
bisco industries now has more online pricing and availability on electronic clips and insulators than ever before! We have recently expanded our partnership with electronic clip and connector manufacturer, Mueller Electric, to provide a streamlined online procurement experience to our customers.
Mueller's Catalog Includes:
Visit biscoind.com today to search the entire Mueller Electric catalog.
About Mueller Electric
As far back as 1908 Mueller Electric has been a leader in the manufacturer of electronic clips and insulators. In fact, Ralph Mueller is responsible for inventing the now famous alligator clip. In addition to electronic clips and insulators Mueller Electric offers electronic connectors, cables assemblies, and other electronic test equipment. bisco industries is proud to be an authorized Mueller Electric distributor.
bisco Expands Online Catalog by Over 2.5 Million Products
Your One-Stop-Shop
Over the past six months bisco industries has added over 2.5 million products to its online catalog. The expansion of our online catalog provides engineers and purchasing agents with additional flexibility to find solutions for current and upcoming projects. Users can now search and filter newly added products by part number, product description, dimensions, and many other attributes.
bisco's expanded online catalog includes products from:
Online & Local Presence
In the coming months we plan to continue growing our online catalog and are targeting to add an another one million products. In addition to our expanded online catalog, we remain focused on providing local, personal service to each and every client. bisco industries now has 48 local offices and 7 distribution centers in North America.
Have you seen our Corporate Video yet? We're excited to share this video which highlights our products & services.
"bisco industries is a global distributor of electronic components, specialty fasteners, and hardware. bisco leverages relationships with an extensive network of manufacturers to provide our clients with superior service. bisco boasts 150+ authorized brands, 90,000+ items in stock, and 48 local offices. Search or browse items to find pricing, availability, and place orders at the click of a button."