Expanded High Clamp Force Family of Card Loks
Featured Product from bisco industries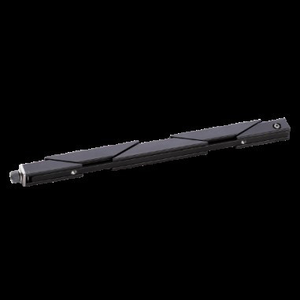 Pentair Introduces New High Thermal Performance Retainer Series and Newly Expanded High Clamp Force Family of Card Loks
Pentair has released a new Schroff retainer design-the Calmark High Thermal "HT" Card Lok and the newly expanded family of Calmark Series 263HC, 265HC, and 276HC High Clamp Force Card Lok Retainers.
The 280HT Card Lok provides best-in-class thermal performance by up to 15 percent over similarly sized Card Loks. The 280HT can do this by shortening the thermal path distance from the PCB to the cold wall through a unique design.
Unlike the traditional Card Lok, the 280HT Card Lok features solid brackets along the length of the Card Lok that provide a continuous and uniform surface along the printed circuit board, or heat frame, and the cold wall. The internal geometry maximizes surface contact area while minimizing heat path distance from the board to the cold wall. You can view data sheet, performance data, and CAD files here.
The newly designed 263HC, 265HC, and 276HC High Clamp Force Card Lok Retainers provide an average of three times the clamping force of similarly sized Card Loks, meeting the growing demands of shock and vibration environments. Its small and lightweight design provides industry-leading board retention that is ideal for defense, space and aerospace applications.
bisco industries – Authorized Pentair Distributor
bisco is your local authorized distributor for Calmark card loks. We also offer card guides and enclosure housings for your electronic system. Visit us online to spec in your part!
bisco Expands Online Catalog by Over 2.5 Million Products
Your One-Stop-Shop
Over the past six months bisco industries has added over 2.5 million products to its online catalog. The expansion of our online catalog provides engineers and purchasing agents with additional flexibility to find solutions for current and upcoming projects. Users can now search and filter newly added products by part number, product description, dimensions, and many other attributes.
bisco's expanded online catalog includes products from:
Online & Local Presence
In the coming months we plan to continue growing our online catalog and are targeting to add an another one million products. In addition to our expanded online catalog, we remain focused on providing local, personal service to each and every client. bisco industries now has 48 local offices and 7 distribution centers in North America.
Have you seen our Corporate Video yet? We're excited to share this video which highlights our products & services.
"bisco industries is a global distributor of electronic components, specialty fasteners, and hardware. bisco leverages relationships with an extensive network of manufacturers to provide our clients with superior service. bisco boasts 150+ authorized brands, 90,000+ items in stock, and 48 local offices. Search or browse items to find pricing, availability, and place orders at the click of a button."