Introducing the Linear Torque Arm
Featured Product from bisco industries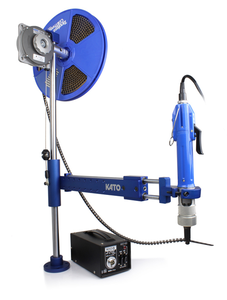 Introducing the Linear Torque Arm
KATO Fastening Systems recently announced the launch of the all new KATO Linear Torque Arm. The linear torque arm is designed to install tangless or tanged threaded inserts using any KATO electric driver or air tool (with optional air tool kit). The Linear Torque Arm offers an unprecedented smoothness of linear and rotational movements as it absorbs the torque reaction inherent with power installation tools.

Features & Benefits
• Keeps the installation tool perpendicular to the work surface
• Reduces RMI (Repetitive Motion Injury) and CTS (Carpal Tunnel Syndrome) while boosting production
• Prevents cross threading and side load, prolonging the life of installation mandrels
• Maneuvers smoothly as the arm absorbs torque reactions from electric and pneumatic tools
• Torque capacity of 177 in-lbf (20 Nm)
• And more...
the KATO Linear Torque Arm is fully compatible with KATO strip-feed packaged tangless inserts, and KATO prewinder electric tools (2KPE series).
Have you seen our Corporate Video yet? We're excited to share this video which highlights our products & services.
"bisco industries is a global distributor of electronic components, specialty fasteners, and hardware. bisco leverages relationships with an extensive network of manufacturers to provide our clients with superior service. bisco boasts 150+ authorized brands, 90,000+ items in stock, and 48 local offices. Search or browse items to find pricing, availability, and place orders at the click of a button."