What is a Banana Plug?
Featured Product from bisco industries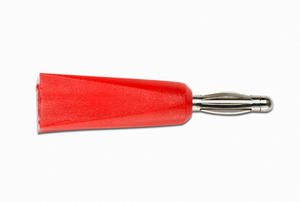 Banana plugs are one conductor (aka: single wire) electrical connectors that are traditionally used to connect wires to equipment with DC and low frequency signals. Banana plugs are male connectors that feature a tubular construction with a flared center to separate the wire post from the main connector body.
Since standard banana plugs are normally not insulated, they are only recommended for applications less than 33 volts. However, insulated banana plugs are available for use in higher current applications. One of the many benefits of using banana plugs is their safety and simplicity. Banana plugs also provide secure connections for lead wires.
Banana Plug Applications
Banana plugs' basic design make them a connector of choice for many applications. In fact, technicians and engineers often use banana plugs in during prototyping to test circuits and connections. Common applications include medical equipment, personal computers, and aircraft navigation systems.
Top Banana Plug Manufacturers
Abbatron (HH Smith)
Cinch Connectivity
Mueller Electric
Pomona Electronics (Fluke)
TE Connectivity
Learn More About Banana Plugs
To learn more about banana plugs and to configure products for your application check out these helpful resources from Abbatron and Pomona Electronics. bisco industries product specialists are also standing by to assist you. Contact a bisco representative now!
Have you seen our Corporate Video yet? We're excited to share this video which highlights our products & services.
"bisco industries is a global distributor of electronic components, specialty fasteners, and hardware. bisco leverages relationships with an extensive network of manufacturers to provide our clients with superior service. bisco boasts 150+ authorized brands, 90,000+ items in stock, and 48 local offices. Search or browse items to find pricing, availability, and place orders at the click of a button."