What is a PLCC Socket?
Featured Product from bisco industries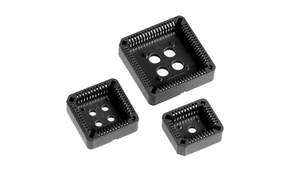 Plastic leaded chip carriers (PLCC) sockets are a type of chip carrier used to form connections between integrated circuits (ICs) and printed circuit boards (PCBs).
PLCC sockets typically have a rectangular plastic housing with connections along all four edges of the rectangle. To form secure connections PLCC sockets utilize J-leads which derive their name from fact that the leads are bent under and around the plastic housing. During installation PLCC sockets are soldered to the PCB and then the chip is inserted into the PLCC socket. Chips can be exchanged or removed using a specialized tool called a PLCC extractor.
PLCC Socket Configurations
All PLCC sockets meet JEDEC industry standards MO-047 or MO-052 which define lead spacing and sizing. Nonetheless, there are several configuration options for PLCC sockets. Perhaps most significant is the mounting style. PLCC sockets are available in both surface mount (SMT) and through hole (THT) configurations. As the name implies SMT PLCC sockets are mounted directly on the surface of the PCB. In contrast, THT PLCC sockets are mounted by inserting leads in pre-drilled holes on the PCB and soldering them to the opposite side.
Top PLCC Socket Manufacturers
3M
Adam Tech
Amphenol FCI
Mill-Max
Samtec
TE Connectivity
Learn More About PLCC Sockets
Manufacturers such as Mill-Max and Adam Tech offer catalogs that provide an array of technical information to help users configure PLCC sockets for their applications. In addition to general manufacturer documentation, bisco industries offers a team of product specialists to answer any questions about PLCC sockets you may have. Click here to contact a bisco product specialist.
Have you seen our Corporate Video yet? We're excited to share this video which highlights our products & services.
"bisco industries is a global distributor of electronic components, specialty fasteners, and hardware. bisco leverages relationships with an extensive network of manufacturers to provide our clients with superior service. bisco boasts 150+ authorized brands, 90,000+ items in stock, and 48 local offices. Search or browse items to find pricing, availability, and place orders at the click of a button."