What is a Strain Relief?
Featured Product from bisco industries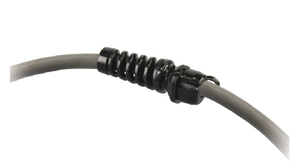 Strain reliefs or strain relief bushings, like their moniker suggests, offer support and relieve strain to areas of cables that are prone to cracking or breaking due to frequent movement. Effective strain reliefs prevent any electrical loads applied to the cable from being transferred to conductor terminations. Also called bend reliefs, strain reliefs are integral part of electrical reliability in products and ensure overall performance.
Strain Relief Applications
Strain reliefs are often attached to a plug or connector that connects a wire to an electrical outlet. Strain reliefs may also be used at contact points or bends in the wire to prevent wear and tear on cables. Many strain reliefs have a series of ridges which allow for greater flexibility at vulnerable areas of cables or cords. It should be noted though, that strain reliefs are extremely customizable and most manufacturers can design them to meet the requirements of the end product.
Strain Relief Manufacturers:
Amphenol

Heyco

Molex

TE Connectivity
Learn More About Strain Reliefs
bisco industries is a premier source for all of your cable protection needs including strain reliefs. If you're interested in learning more about strain reliefs check out this helpful brochure from Heyco or visit our Heyco strain relief product page.
Have you seen our Corporate Video yet? We're excited to share this video which highlights our products & services.
"bisco industries is a global distributor of electronic components, specialty fasteners, and hardware. bisco leverages relationships with an extensive network of manufacturers to provide our clients with superior service. bisco boasts 150+ authorized brands, 90,000+ items in stock, and 48 local offices. Search or browse items to find pricing, availability, and place orders at the click of a button."