MCS Aluminum System
Product Announcement from Bishop-Wisecarver Corporation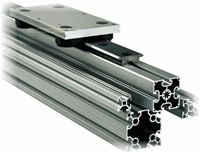 The MCS system offers a wide range of aluminum profile sections plus all the connecting elements and accessories the designer could need. These modular components allow an almost infinite possibility of frames to be constructed for use in industrial machinery, guarding, storage, and display applications. Profile machining and frame construction to customer's drawings is accomplished by Bishop-Wisecarver with very quick delivery times.

The MCS system is particularly effective at replacing traditional welded steel structures at a lower overall cost, primarily a result of time savings, due to the ease of assembly. Flexibility is increased compared to welded structures, since all elements are reusable and modifications are easily implemented on existing designs. Many of the brackets and connecting elements in the MCS system can be used with no machining involved.

Aluminum profiles are manufactured from AI6063-T5 and clear coat anodized to a 10 micron thickness. Standard T-slots run along the length of the profiles, allowing for insertion of T-nuts and T-bolts for simple connection of brackets and accessories.


---