Gigabit PoE+ Networking and HD Video Switching
Featured Product from Black Box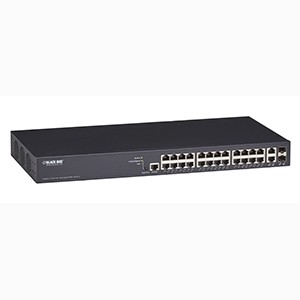 Black Box has introduced an exclusive networking/video switch. The LPB2900 Series Gigabit PoE+ Managed Switch incorporates a built-in MediaCento Controller, which is a finalist in the 2016 InAVation awards for best Video Tool.
The LPB2900 Series switch is the first network switch of its kind. It gives users an all-in-one solution for Ethernet networking plus HD video extension and switching. The switch makes it easy to send video, including 4K UHD, and audio to an unlimited number of screens across a local area network.
Instead of setting up a network switch and a separate controller, this economical one-box solution gives users a way to send video signals over Ethernet for digital signage and conference room applications. Users can switch from any source to any display, or define and switch presets. Mobile support enables users to access the system from their mobile phone or tablet. Because the switch is IP-based, this scalable solution does not have any video port limitations.
In addition, this L2 managed switch offers full Gigabit Ethernet switching capabilities plus PoE+ for powering remote access points, IP security cameras, and VoIP phones. Dual UTP/SFP ports enable users to support distances from 500 meters to 10 kilometers depending on the application. The switch also provides enterprise-class security, as well as best-in-class performance and management features.
The switch is well-suited for the following applications:
• Control and Command Rooms: Use for HD video extension with multiple screens.
• Education/Conference Rooms: Use for HD video matrix switching.
• Enterprise LAN: PoE+ switching for Wi-Fi access point data aggregation/backhaul.
• Security/Surveillance: PoE+ switching for IP camera data aggregation/backhaul.
Three models plus the software are available.