Hardened, PoE Ethernet Extender over UTP Cable
Featured Product from Black Box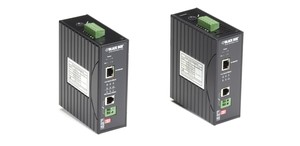 The Black Box Hardened Power-over-Line (PoL) PoE Ethernet Extender Kit (LBPS310A-KIT) connects and powers PoE devices such as security cameras and wireless access points over one pair of ordinary voice-grade UTP cable—even in harsh conditions. It enables you to save on installation costs by using wire you may already have installed.
This extender features up to 100-Mbps performance at up to 300 meters. Plus, even at a distance of almost three football fields, it powers 802.3at PoE devices with a full 30 watts, so high-powered devices like PTZ cameras can get the power they require. At longer distances, you can still get full power by using a separate power supply with the remote unit. It can extend Power over Ethernet up to 1.2 kilometers and Ethernet up to 2.2 kilometers.
The extender is hardened for industrial use with a tough aluminum case that keeps out dust and debris. It features an extended temperature range of -40 to +167° F (-40 to 75° C). The extender mounts on standard DIN rails and accepts standard 48-VDC power via terminal block. For redundant power, the terminal block has a second power input or you can use the 48-VDC power jack.
Learn more about Black Box's networking products.
• Industrial Networking Solutions
• PoE
Resources
White Papers
• 5 Questions to Ask When Choosing Wireless Ethernet Extenders
• Power over Ethernet in Industrial Environments
Videos
• Hardened Managed Switch Demo
• Industrial Ethernet Switches
Presentations
• Industrial Managed Ethernet Switches
• LE2700 Industrial Ethernet Switches
Questions? Contact Black Box's 24/7 FREE Tech Support at 724-746-5500.

Play Hardened, PoE Ethernet Extender over UTP Cable Video