KVM-over-IP: Switching & Extension - DVI,USB,Audio
Product Announcement from Black Box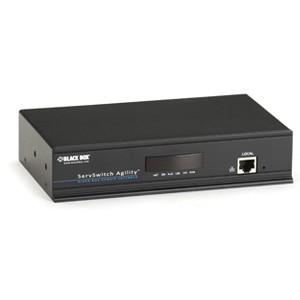 The Black Box Agility IP-Based Switching and Extension System is a scalable platform to grow your KVM system over an existing Ethernet LAN as needed.
Delivers perfect digital video. The single-head Agility has DVI resolutions up to 1920 x 1200, and the dual-head Agility has DVI resolutions up to 2560 x 1600.
No-loss compression minimizes bandwidth use while maximizing the user experience.
Fast switching times— less than one second for video.
Configure your network to suit your needs: point-to-point extension, KVM switching, single-target sharing, or multicasting.
Enables selective switching of DVI, USB, and audio channels.
Features keyboard/mouse emulation and virtual transparency for other standard human interface devices (HIDs), such as touchscreens or flash drives.
The KVM-over-IP Agility also incorporates a transmitter with a VNC port (ACR1012-T) for remote access. VNC access enables a user to remotely access the transmitter for troubleshooting or multiuser collaboration.
The Agility is a useful tool for multicasting video over an IP network, which makes it ideal for broadcast production, command and control, digital signage, healthcare, education, and corporate applications where you need to share video content with remote users.
In matrix and TCP/IP network sharing applications, you will also need an Agility Controller Unit (ACR1000A-CTL). It includes a management suite for remotely and securely managing the transmitter and receiver units. Define new content channels, restrict and enable access privileges, push control, and more.
Once you plug the controller unit into your network, you can begin managing devices, users, and channels. The iPATH™ interface features a useful on-screen dashboard that gives you a current overview of the system. It is continually refreshed so you always have the most up-to-date system information.

Dual-Head or Dual-Link Video Options
The flexible topology of the ServSwitch Agility now supports dual-head or dual-link multimedia applications where you need access to two video heads on each channel or high-resolution screens, respectively (ACR1002A-T and ACR1002A-R).
The single-head, single-link Agility models support video resolutions up to 1920 x 1200. In contrast, the ACR1002A-T and ACR1002A-R versions provide dual-head extension for each video channel at 1920 x 1200 or dual-link DVI-D resolutions up to 2560 x 1600.
With dual-link support, you can use the Agility receivers with extra-large HD screens, such as displays used for broadcasting, digital film, or high-end graphics editing, as well as dual-monitor setups, as used in medical imaging or process engineering. Use two DVI-D monitors at a remote workstation for maximum productivity and viewing capabilities.
High-Quality, Real-Time Video Either Way
All Agility units a deliver high-performance user experience, whether you're using a single-head or dual-head setup. Built-in video encoding technology delivers the very best picture available and minimizes bandwidth usage to process full-screen moving video in real-time. With 1:1 pixel mapping, digital video received remotely is the same as the digital video leaving the local computer.
Plus there's never a loss of clarity, which makes the Agility ideal for color-controlled environments, such as visual media or medical imaging applications where groups of users need to collaborate in real time on projects.
---