HD Wireless Presentation System
Product Announcement from Black Box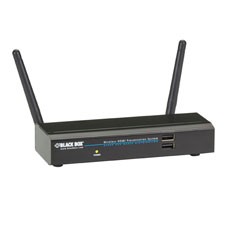 Turn your wired HDMI/VGA projector display into a wireless one for fast, safe audio/video presentations with the HD Wireless Projection System.
Professional, high definition wireless presentation system.
Enables you to give a wireless presentation from your PC, Mac®, smartphone, or tablet.
Super versatility: HDMI or VGA, wired or wireless.
This affordable plug-and-play receiver gives you super versatility. Because it has both HDMI and VGA connectors, you can use it with a wide variety of projectors and displays. Depending on your application, you can connect it to your wired Ethernet LAN. Or, users can connect to your wireless 802.11b/g/n network.

How it works.
The HD Wireless Presentation System functions as both a wireless receiver and an 802.11b/g/n access point. It enables as many as 32 laptop users to log in and display their computer screen video and audio from up to 300 feet away in full 1080P HD resolution. (Under optimum conditions, depending on the environment.) The system's application software captures the images and sends them through 2.4-GHz radio waves to the receiver for output.

Change presenters with one click.
No more swapping cables in and out.

Fast, easy file sharing.
Meeting participants can open a PowerPoint® presentation or other file, such as a Word document or JPG image, and the presentation is then sent wirelessly to the HD Wireless Presentation System for overhead display.

Plug-and-show setup.
With the Plug-and-Show USB token, wireless presentations are easy. Just link a PC or Mac to the HD Wireless Presentation System through a WLAN or an Ethernet connection. Plug the token into a USB port and in seconds your screen will be wirelessly sent to the System and be seen by the entire room.

You control conference participants.
The conference control function gives you the ability to act as conference moderator. Use it to control who can present and the order of presentations. It also gives you the ability to switch presenters with easy one-click switching.

Keep your network and content secure.
The HD Wireless Presentation System makes you the gatekeeper. You can control who can connect to your wired or wireless networks. You can also give conference participants access to the Internet, while keeping them off your networks. You can also deny them network and Internet access. The system features session login and WEP/WPA/WPA2-PSK security.

4-to-1 split-screen for multiple users.
With this 4-to-1 split-screen feature, you can display up to four different user screens at the same time. The individual screens are shown in quadrants, which makes it great for education and training applications where the audience can make side-by-side comparisons. You can also assign specific quadrants to each presenter.

Simple, Web-based control interface.
The Web-based administrative tool makes it simple for you to configure and manage device settings. Enable the SNMP manager and you can manage settings on multiple HD Wireless Presentation System receivers.

Remote desktop function.
Have greater mobility when presenting at a podium or anywhere in a meeting room. The Remote Desktop function enables you to control a presentation from a wireless USB mouse/keyboard or to toggle between slides in a presentation using a USB wireless clicker. You can also connect a USB keyboard and mouse to the HD Wireless Presentation System.
Two USB ports.
Dual-front USB ports enable you to connect a USB mouse, keyboard, or media player.

What's included:
• HD Wireless Presentation System receiver
• Power supply
• Plug & Show USB token
• (2) antennas
• (2) screws for mounting receiver to bracket
• (4) screws for mounting bracket to wall
• User's manual on flash drive
Other systems include:
Micro Wireless VGA Presentation Tool
Presentation Switcher - HDMI, VGA, HDBaseT, 5 x 1
Resources
White Paper: Insider's Guide to HD Video Matrix Switching
---