Terminal Blocks for Ice Machines
Featured Product from BlockMaster Electronics, Inc.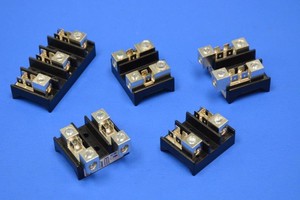 BlockMaster Electronics has expanded its family of medium power terminal blocks for manufacturers of ice machines.
The HP-AT101 Series 300V / 50-amp Terminal Blocks are offered in 2 or 3 pole configurations. They are ideally suited for medium input power distribution in electrical panels, to transition larger gauge #2-14 to internally distribute #8-14-gauge secondary circuitry (thru .250" Q.C. / or wire clamp).
The HP Series medium power terminal blocks comply with UL and CSA, as well as RoHS.