Towers of Power with BlockMaster
Featured Product from BlockMaster Electronics, Inc.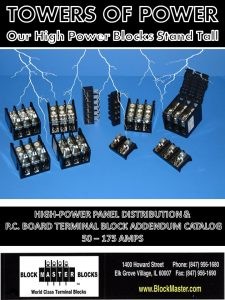 High and Medium-Power Terminal Blocks
BlockMaster Electronic's High-Power Terminal Blocks are rated at 90A, 125A, 175A, 255A and 380A at 600V. We offer a wide range of terminations, including screw, studs, and screw clamps. BlockMaster's Medium-Power Terminal Blocks are rated at 50A/300V, 2 and 3 poles. Terminations include screw clamps and 0.250″ QCTerminals. All BlockMaster high and medium-power terminal blocks comply with UL and CSA standards as well as RoHS.
BlockMaster Electronics provides a range of innovative terminal blocks, high power blocks to PC board connectors, and termination connection solutions to electrical and electronic OEMs since 1994. We have low-cost, high-quality manufacturing capabilities and can provide reliable products from stock.
A distinct competitive advantage that BlockMaster offers its customers includes the ability to make modifications in-house to its terminal blocks based on customer requirements. BlockMaster's Value-added Center provides the ability to fabricate, modify and print legends on our blocks at our Illinois facility for quick turnaround.
BlockMaster Electronics manufactures terminal blocks from 1 to 380 amps, including PCB styles up to 150 amps and PCB screw terminals from 25 – 150 amps. We offer over 9,500 P/Ns including PCB, Feed-through and Power Distribution types, flange and safety cover options. BlockMaster's Value-added Center can also provide quick turnaround on prototypes. Our diverse line of terminal blocks and connectors has the perfect solution to fit your application.