Bondex Expands Hydrolox Range
Featured Product from Bondex, Inc.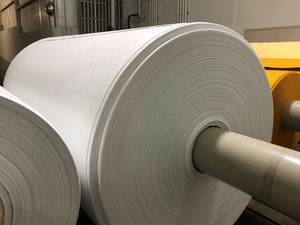 Bondex Expands Hydrolox Range
Bondex, of Trenton, SC, is part of the U.K.-based multi-national manufacturing company Andrew Industries. Brian Little, senior vice president, sales and marketing, says Bondex's parent company has always viewed the filtration industry as a strategic market as the technical and commercial requirements align with its core competencies of quality, service and innovation, and both Bondex and Andrew are witnessing growth in this segment.
"The global economy continues to expand, in part due to growth in industrial production. As manufacturing growth continues, users demand higher performance filtration media which is necessary to meet emissions regulations and productivity goals," Little says. "Achieving this balance in filtration efficiency and plant throughput is driving growth in pleatable filter media as well as new compositions and consolidation technologies."
One of the more recent developments from Bondex is a unique process technology that produces its Hydrolox and Hydrolox HCE products. Using ultra-high pressure hydroentangling, Hydrolox represents a new paradigm of mechanically robust felt with finer pore sizes than needle felt which delivers superior filtration efficiency than the incumbent filter felt. Meanwhile, Hydrolox HCE, which stands for "high collection efficiency," utilizes the Bondex process technology in combination with fine fiber and splittable fibers to deliver filtration efficiency that are equal to membrane laminated needlefelt.
Bondex, which launched Hydrolox in 2017, expanded the Hydrolox portfolio beyond aramid, polyester and PPS to now include blends with PTFE, which will be commercialized this fall. "We anticipate that our aramid/PTFE Hydrolox HCE product will deliver filtration efficiency equal to membrane which can serve a wide variety of applications where membrane laminated needlefelt would otherwise be compromised," Little says.
Bondex also developed a pleatable polyester Hydrolox product to respond to growing market needs in pleatable filtration media.
"Our market intelligence informs us of the growing needs for superior filtration performance. We have designed Hydrolox to address these needs without sacrificing permeability in a mechanically robust solution," Little explains. "As industry needs continue to change, the filtration market desires partnerships which can develop innovative solutions in order to deliver growth. We see Bondex and the Hydrolox family of products providing value to customers with these challenges."
As the market continues to grow, the company continuously makes investments in order to enhance its filtration portfolio. Recently it installed a new Brückner Stentor, and with this Bondex can now offer oleophobic, hydrophobic, acid resistant, and other water-based treatments to its products. The company has also recently added high temperature lamination capabilities to provide ePTFE laminated to woven glass and aramid felt materials.
Watch>>>Virtual Tour of Bondex, Inc capability at our site in Trenton, South Carolina
Bondex
Founded in 1997, Bondex produces specialty nonwovens for a wide range of discerning customers who value innovation, quality and differentiated nonwoven fabrics which meet specific performance requirements. As a proud member of Andrew Industries Limited, we invest in technologies to support sustainable business relationships with our customers