NEW HIGH DENSITY DRAWER SYSTEMS
Featured Product from Borroughs Corporation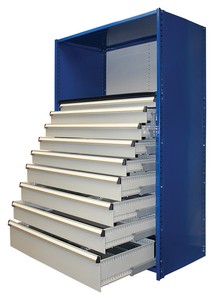 Welcome to the NEW HD Drawers Shelving Systems. Our challenge: Take one of our most popular and effective products and ask, "How can we make it better for our customers?" The answer: Deliver better technology in the form of the best slide suspension in the business. Shorten the installation time by 50%. And finally, make the changes, with little to no price impact. We are very pleased to say, mission accomplished.
ADVANTAGES:
• High-Density - One HD drawer unit holds as much as five bin units!
• Heavy-Duty - 400lb. CAPACITY PER DRAWER
• Partitions and Dividers provide better organization
• Faster parts picking equals less time waiting for customers and tech's
• Total Flexibility for shelves either above or below drawer banks
• More economical than cabinet
HD DRAWER FEATURES
• Drawers fully extend to view and access entire contents
• Roller bearing suspension for smooth operation
• Each drawer will support up to 400 pounds of an evenly distributed load
• Partitions and dividers can be added for custom configuration
• All hardware and instructions are provided for fast installation
• Drawer dividers and partitions are galvanized steel & factory installed
NEW ROLLER BEARING SLIDES
The new slide suspension uses a roller composition, improving the running ability of the drawer and eliminating walking and wearing of the profiles due to friction of steel on steel. The Delrin® rollers increase performance and the lifetime of the slide exponentially.
NEW BRACKET PANEL UPRIGHTS
The NEW HD Drawers Mounting Upright Bracket Panels feature a modern, clean finish. In addition, they have been manufactured with larger holes, allowing for easier accessibility and saving up to 50% of the installation times.
DRAWER SIZES
NEW HD Drawers are Available in:
• 7 Different Heights: 3", 4-1/2", 6", 7-1/2", 9", 10-1/2", 12" and Roll-Out Shelf
• 2 different Depths: 18" & 24"
• 2 different widths: 36" & 48" wide
These heavy-duty, high-density drawers can modernize and significantly improve the storage space and efficiency of existing or new shelving units. Drawers can be arranged and rearranged to keep your storage system efficient as your operation grows and changes. They can be installed in any combination as long as the total height of the drawer fronts does not exceed the height of the mounting upright panels.
HD DRAWER ASSEMBLY
EASY ASSEMBLY - FASTER INSTALLATION TIMES Borroughs HD Drawers in Shelving units assemble using simple tools in three easy steps, as illustrated below.