Hi-Contact™ Tube Liquid Cold Plate
Featured Product from Boyd Corporation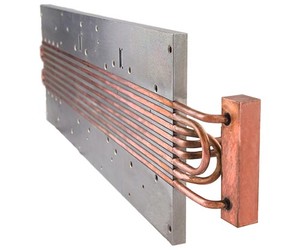 Hi-Contact™ Tube Liquid Cold Plate
Aavid, Thermal Division of Boyd Corporation's Hi-Contact™ technology optimizes the contact area liquid tubes have with a cooling surface to provide the best possible liquid cold plate thermal performance. Our patented geometry used in these designs ensures the most tube-to-plate and tube-to-device contact possible to minimize interface resistance between all contact surfaces. To further increase performance, a thermal epoxy is applied to the tube/plate joint to provide a gap-free thermal interface between the tube and cold plate.
Aavid's patented Hi-Contact™ liquid cold plates feature copper or stainless steel tubing mechanically interlocked into aluminum plates. These cost effective liquid cold plates are designed specifically for low to medium power density applications.
Standard Aavid Hi-Contact™ tube liquid cold plates feature a joint-free continuous tube press-fit into an extruded aluminum plate in a variety of passes for various performance levels.
Custom Hi-Contact™ Cold Plates are available with either continuous tube styles or a manifold style to increase tube density within the liquid cold plate. Manifolds are brazed to tubes and tested for 100% leak-free performance.
View Standard Hi-Contact™ Liquid Cold Plates below or contact the Boyd Engineering Team for a custom design for your application.
For help selecting a standard liquid cold plate please try our liquid cold plate selector tool
Liquid Cold Plates
Liquid cold plates are a critical component of a liquid cooled system. Aavid has the broadest range of design and manufacturing liquid cold plate technologies in the industry. Our global capabilities enable us to develop and produce more efficient and compact cooling for extremely high heat loads while still maintaining design flexibility and reducing costs.
Liquid Cooling
As electronics devices become more powerful, liquid cooling is becoming much more prevalent across most industries as it is the most compact and efficient method for cooling high density heat loads. Liquid cooled thermal management solutions take advantage of liquids' higher heat capacity to transfer and dissipate heat loads. Liquids can absorb and transport more heat than air, enabling high performance cooling solutions.
Aavid offers liquid solutions at the device, enclosure, or facility level ranging from small off-the-shelf cold plates for testing purposes to complex liquid cooled systems integrating multiple technologies to cool some of the largest data centers in the world. Aavid liquid cooling solutions provide increased efficiency, utilization, energy recovery, and reliability across all system levels.
Watch>>>Boyd Corporation Video
Boyd Corporation
Boyd Corporation is a global leader with more than 90 years of experience in advanced sealing, thermal management, and protection solutions for the world's most demanding applications. View Boyd Corporation's global operations overview video to learn more about the value Boyd can bring to your organization!
Boyd Corporation: One Company, Many Solutions