Adhesive Bonding Systems
Featured Product from Boyd Corporation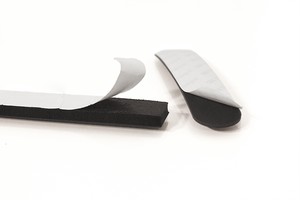 Bonding & Adhesive Systems
Bonding and Adhesive Systems are highly engineered materials that include a broad range of adhesive tapes, optically clear adhesives, epoxies, or rubbers (OCA/OCR) and pressure sensitive adhesive (PSA). These materials typically adhere a variety of substrates together or bond components into an assembly. Adhesive and bonding materials are essential components to high performance in nearly every industry.
Boyd Corporation is an adhesives expert with decades of experience designing custom solutions that feature adhesives and tape for quick and easy assembly. Boyd engineers utilize a series of key parameters to identify the best adhesive system for an application. The success or failure of an adhesive relies on variables such as mating substrates, polymer type, surface contact, dwell time or potential environmental exposures. Failing to consider all aspects of the application can lead to insufficient pull strength, impact resistance, inadequate temperature resistance and product lifetime.
Watch>>>Boyd Corporation Video
Boyd Corporation
Boyd Corporation is a global leader with more than 90 years of experience in advanced sealing, thermal management, and protection solutions for the world's most demanding applications. View Boyd Corporation's global operations overview video to learn more about the value Boyd can bring to your organization!
Boyd Corporation: One Company, Many Solutions