Display Enhancement & Protection Solutions
Featured Product from Boyd Corporation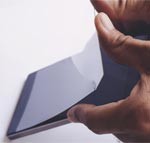 Display Enhancement & Protection
Displays have been integrated into many tools and appliances that we use throughout our day. This widespread integration of smart display technology provides a wide variety of potential use environments with varying light quality levels, ability to review confidential materials, and other environments where reflection, glare, brightness or privacy may be a factor.
Many of these displays are integrated into a larger assembly or carried by an individual making weight and thickness critical. Product designers are configuring displays in smaller dimensions, generally installed near high power level, high heat generating components. Combine this with the fact that consumers expect greater color intensity and modern displays generate or are exposed to excessive heat that needs conducting or shielding to protect efficient device operation and extend product lifetimes.
Boyd's precision converting capabilities, cleanrooms classified from 100 to 100K, excellent tolerance control, innovative processes, and strategic relationships with the world's leading display material innovators make us the ideal partner to help you design and fabricate solutions that enhance and protect your displays. Boyd helps you optimize display performance in a wide variety of use environments with long term reliability, like:
Surface protection films to prevent screen chipping, scratching or cracking
Ingress protection against water, dust and other contaminants
Drop shock vibration absorption to prevent screen cracking
Heat spreaders to manage touch temperature and heat shields to block excess battery heat
Anti-reflective and anti-glare films for varying use environments
Optimize Your Display Performance for Integrated Electronics
LCD and OLED screen display technologies require supporting components to both enable and enhance performance. Boyd Corporation's integrated solutions improve your device's operation over extended lifetimes and include products like screen and bezel bonding systems, vibration management, optically clear adhesives (OCAs) and films, and thermal management.
Watch>>>Boyd Corporation Video
Boyd Corporation
Boyd Corporation is a global leader with more than 90 years of experience in advanced sealing, thermal management, and protection solutions for the world's most demanding applications. View Boyd Corporation's global operations overview video to learn more about the value Boyd can bring to your organization!
Boyd Corporation: One Company, Many Solutions