Display & Optically Clear Adhesives Solutions
Featured Product from Boyd Corporation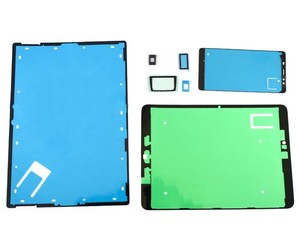 Display & Optically Clear Adhesives
Optically clear adhesives and other components that support display technologies are some of the most difficult raw materials to handle, fabricate and assemble due to high aesthetic demands and requirements for visually flawless components in LED screens, LCD displays and OLED screens. Display technologies require material functionality and supporting components to enhance screen performance, decrease battery demands and optimize the end consumer's engagement with the electronic display device. Display technologies continue to proliferate across most end consumer applications with the continued adoption of the Internet of Things ("IoT") and are now found in transportation applications, point of care medical devices, home appliances and other white goods, computing devices, industrial equipment, medical wearable devices as well as traditional applications like smartphones and tablets.
Boyd Corporation is an early pioneer of display technologies that increase reliability, functionality and performance while reducing power consumption. Our raw material expertise, long tenured strategic relationships with the biggest innovators in display material science and world class manufacturing technologies in well-established clean room environments has enabled us to innovate early with supporting display technologies that help customers reduce design and sourcing complexities. We're often able to design solutions that combine needed display vibrancy enhancement with display stack bonding, thermal management, EMI shielding functionality, vibration management and module attachment to the larger display assembly in one delivered component. Optically clear adhesives and other aesthetically sensitive materials are stored, handled, converted and packaged for assembly in Class 100 clean rooms to assure visual perfection and contaminant free components.
Optimize Your Display Performance for Integrated Electronics
LCD and OLED screen display technologies require supporting components to both enable and enhance performance. Boyd Corporation's integrated solutions improve your device's operation over extended lifetimes and include products like screen and bezel bonding systems, vibration management, optically clear adhesives (OCAs) and films, and thermal management.
Watch>>>Boyd Corporation Video
Boyd Corporation
Boyd Corporation is a global leader with more than 90 years of experience in advanced sealing, thermal management, and protection solutions for the world's most demanding applications. View Boyd Corporation's global operations overview video to learn more about the value Boyd can bring to your organization!
Boyd Corporation: One Company, Many Solutions