Ultra Thin Vapor Chambers
Featured Product from Boyd Corporation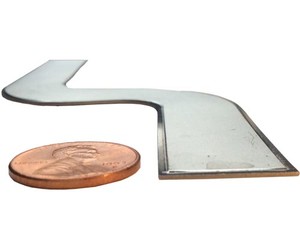 Ultra Thin Vapor Chambers
Ultra Thin Vapor Chambers utilize internal two-phase evaporation and condensation to passively transfer heat across the plane of a vapor chamber. Vapor chambers enable high heat transfer across its surfaces, even in high heat flux applications, without any moving components. Typically, vapor chambers can effectively conduct heat 10 to 50 times more than solid metal structures and possess higher through-plane conductivity than graphite for thicker applications.
Ultra Thin Vapor Chambers are efficient solutions for uniform heat spreading in low profile applications where height is at a premium. Aavid's manufacturing processes produce copper vapor chambers as thin as 0.4 mm, ideal for low profile applications with limited space for heat transfer or dissipation.
Aavid's Ultra Thin Vapor Chamber manufacturing process is tightly controlled which ensures negligible performance reduction over the lifetime of the product, ensuring reliable functionality. In addition, by utilizing a tubeless fill process, we further reduce volume that cannot be used for product functionality or heat transfer.
Ultra Thin Vapor Chambers Solutions:
Over 10X-50X more thermally conductive than solid metal
High planar conductivity, ideal for uniform & efficient Heat Spreading
Higher through conductivity (Z-axis) than graphite for thicker applications
Passive Heat Transfer Component that doesn't require power to function
Enables higher reliability and longer product lifetimes
Can include pedestals for varying device heights
Custom shapes for application-specific layouts and geometries
Through holes for device and vapor chamber mounting
Ideal for heat spreading heat over large areas with low profile
Add Conformable Thermal Shields to protect nearby Components
Combine with low profile blowers & heat sinks for a complete ultra-thin thermal management solution
EMI/RFI Absorption/Shielding
Use adhesives and thermal interface materials to thermally and mechanically join Ultra Thin Vapor Chambers to devices and chassis
Incorporate with Electrical Isolation or Shock Absorption
Key Industries
Watch>>>Boyd Corporation Video
Boyd Corporation
Boyd Corporation is a global leader with more than 90 years of experience in advanced sealing, thermal management, and protection solutions for the world's most demanding applications. View Boyd Corporation's global operations overview video to learn more about the value Boyd can bring to your organization!
Boyd Corporation: One Company, Many Solutions